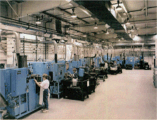 Zion Industries is an induction heat treating company that has been an industry leader since its founding in 1977. We provide high quality both in heat treating services and handling equipment for induction heating applications.
Zion, like so many others, strives for excellence in service and quality. What distinguishes us is our primary motivation: Excellence that brings glory to God. We care about our customers, and are committed to the services we provide. Our goal is to meet the outsourcing needs of the manufacturing industry by delivering unmatched customer service and enhancing value for all stakeholders.
Today Zion's 100+ employees serve customers nationwide with facilities in Ohio, North Carolina and Michigan. We also serve clients from Pennsylvania (PA), Indiana (IN), Tennessee (TN), and Kentucky (KY).
Why choose Zion Industries as your induction heat treating company?
With decades of experience, you can trust our induction heat treating company to meet your specific needs with our advanced induction services, equipment, technology, and expertise.
Our customers benefit from our specialization in induction heating and integrated induction heating solutions across many industries. We help our customers avoid excessive inventory and part handling when they require induction heating needs, which can also help lead to minimum waste and improved results. Zion has advanced technology, equipment, and process yielding units that meet the highest quality standards in a cost-effective way.
We invite you to contact us about your specific application and needs. We can help you find a solution that works for you! Are you ready to get started? Request a quote today to learn more.
Learn more about our services: