Heat Treating Services in Ohio, Michigan & North Carolina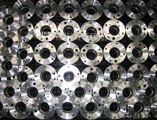 Zion Industries, Inc. has been a leader in induction heat treating services since 1977. We provide our customers with certified, high-quality induction heating solutions in a variety of metal heating applications including Hardening, Brazing, Annealing, and Tempering. Our customer base expands into many industries including aerospace, manufacturing, automotive, oil & gas, energy, railroad, and many more. We have facilities in Ohio, Michigan, and North Carolina.
Why induction heating?
Most metals require heat treating to achieve their optimum physical properties. Induction heating gives you tight control of the heating pattern, and allows you to select specific physical characteristics down to each section on a metal part. Our customers often select our services for its faster turnaround time and ability to yield higher quality parts. Fast heating rates, energy savings and high production rates are just a few of the benefits of induction heating. Induction heat treating is the best solution when you are in need of very targeted heating of alloy, non-alloy, and steel metals including surface hardening, melting, brazing, soldering and heating to fit.
Why choose Zion Industries?
You can count on Zion Industries to handle any of your induction heating needs, no matter how specific! With over 40 years of experience as a commercial heat treating company, all of our induction heat treating services have been fine-tuned and are ready to work for you. Our focus is to lead the Ohio, Michigan, and North Carolina market in quality induction heating and provide affordable and innovative solutions. Our services, equipment and process give you the most flexible solution for current and future needs.
Are you ready to experience success with induction heat treating? Request a quote today to get started.