Metal Case Hardening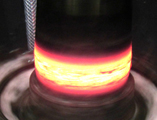 Zion is a leading provider of induction heating services, including induction hardening, with plants in Michigan, North Carolina and Ohio. Case hardening is a metal heat treatment process that offers a controllable and localized method of heat without contact to the metal parts or components being heated. The heat is generated by inducing an electric current to flow into a specific area of a part. This provides an economical, targeted and rapid heat treating of conductive materials.
Why use induction hardening?
Induction hardening is favored for parts that are subject to heavy loading. Typical applications include axles, saw blades, shafts, stampings, spindles, gears and most symmetrical parts. This method is widely used for surface hardening steel, but can be used with other materials including:
Carbon steels
Alloy steels
Stainless steels
Powder metal
Cast iron
Copper
Aluminum
Ask Zion a Question About Induction Heat Treating
Why choose Zion Industries?
We specialize in induction heat treating for unique part configurations. We can accommodate extreme part diameters and lengths for rolls/shafts and gears. Our power supplies range in size from 5 kW to 300 kW and in frequency from 1 kHz to 450 kHz. Zion has developed an excellent reputation as a commercial heat treating company, producing high quality, on-time work at very competitive pricing.
Although we specialize in high volume production runs, we also have the capabilities to develop prototypes and complete process development work for parts. Zion Industries strictly adheres to ISO/TS16949:2009 standards. We pride ourselves in being one of the largest, most innovative, privately-owned induction heat treating companies in Ohio, Michigan, and North Carolina. For more than four decades, we continue to build an unparalleled reputation for providing innovative process solutions and utilizing state-of-the-art technology and equipment.
Are you ready? Our experienced team is ready to explain our induction hardening process and assist you with all of your needs. Request a quote today to get started.