High Quality & Improved Turnaround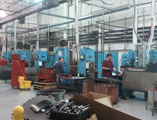 At Zion Industries, we're experts in high-volume induction heat treating services, specializing in everything from consulting to production. We pride ourselves in building lasting relationships with customers, and meeting your specific heat treating needs.
Wondering if induction heat treating is right for you? There are two key advantages of induction heat over furnace heat:
Quickly heat specific areas of the parts rather than the whole part
Gives improved turnaround time
Why use induction heating?
Advantages over furnace heat treating:
Fast Heating… Development of heat within the work piece by induction provides much higher heating rates than the convection and radiation processes that occur in furnaces.
Fast Start-up… Furnaces contain large amounts of refractory materials that must be heated during start-up, resulting in large thermal inertia. The internal heating of the our process overcomes this issue and allows much quicker start-up.
Energy Savings… When not in use, the power supply can be turned off because restarting is so quick. With furnaces, energy must be supplied continuously to maintain temperature during delays in processing and to avoid long start-ups.
High Production Rates… Because induction heat treating times are short, this often allows for increased production rates and flexible production scheduling.
Why choose Zion Industries?
We are experts in high-volume, commercial induction heating, and our customers benefit greatly from this specialization. Here are a few of the reasons working with us is beneficial to our clients:
We specialize in induction heating
We use top-notch technology, equipment, and processes
We produce units at the highest quality standards
We have over 40 years of experience
When next your travel plans permit, why not stop by and see us at any one of three locations. We will happily take the time to give you a tour.
Are you ready to experience success with Zion Industries? Request a quote today to learn more about the advantages of induction hardening and how we can improve your bottom line with affordable solutions.