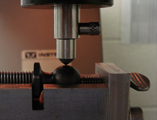 From shorter processing times to energy savings, induction heating offers many valuable benefits.
Induction heat is used as a heat treatment process in numerous industries. While this is a widely used method throughout the world, not every part that needs to be heat treated will work with induction heat treating. So what are some advantages of induction heat treating?
Induction Heat Treating is Flexible
Flexibility is one of the biggest advantages of induction heat treating. The nature of the process allows you to harden or soften a specific area of a part while leaving the rest of the part unprocessed. For example, you might want the teeth on a gear or a wear area on an axle shaft hardened, while leaving the rest of the part in its original condition. The induction heat process provides the flexibility you need to meet specific engineering needs and product demands.
Precision Heat Treating is Faster
Because you are heat treating just an area of a part, there is a much shorter processing time per piece than with other types of heat treating. For example, you can put parts on a machine, and then pull them off after completion within seconds, so parts can be immediately available. This faster heat treating method allows us to turn your project around in the most time-efficient manner.
Induction Heat Offers Consistent Results
Another benefit of induction heat treating is the consistency and uniformity it offers. The controllability and repeatability of induction heat treating is consistent from part to part. Because the production process is the same every time, it offers dependable quality standards that keep your business up and running.
Induction Heat Treating Is Cleaner & More Efficient
Like the ovens at your local pizza shop, furnaces used in most other types of heat treating have to be constantly running all the time. Precision heat treating turns power on, and then switches it off, for each piece. So it's much more energy efficient -- which translates into a cost-savings for you. It's cleaner for the environment, too, since there are fewer hydrocarbon-producing flames burning.
Learn More About the Benefits of Induction Heat for Your Next Heat Treating Project
Do you have a project on your radar that you have questions about? Are you wondering if induction heat treating is right for you? Let us know, we would be happy to help with our advice or a competitive quote. Give us a call at (330) 483-4650, request a quote or stop by one of our three locations for a tour.