HILDEBRAN, N.C. (July 27, 2016) – Zion Industries Inc. recently expanded its capacity in its Hildebran location by adding a new induction heat treating machine.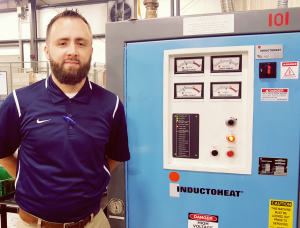 The Hildebran location was nearly at 80% capacity prior to the investment. With this addition, it has added 11% capacity plant-wide.
The new induction heat treating machine is the ninth at the plant and the third of its kind at the facility. When Zion expands its plant capability, it does so to benefit many different applications. This new machine installation occurred because of its versatility in many different induction heating applications.
The added capacity spans across multiple industries, including automotive, aerospace, manufacturing and more.
"Due to the forecasted growth of our customer base we have added this new induction heat treating machine to our facility," said Jonathan Holman, plant manager at the Hildebran plant.
"Our added capacity is just another step in Zion's growth process as we continue as a leader in the induction heat treating business."
Holman recently came onboard at Zion to serve as plant manager. He has significant experience with a manufacturing operations background.
"Efficiency drives our process along with quick turn-around and this new machine allows us to accomplish both. With this machine, we've been able to better service our present customer base and look forward to meeting the needs of our new customers." Holman added.
For information about Zion's capacity, visit its website.